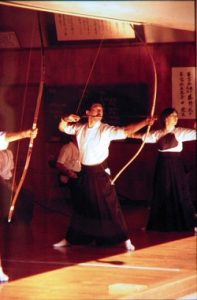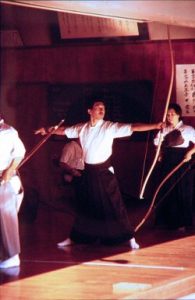 Kata are a Distillation
Kata are traditional keystones of all martial arts study. Passed from generation to generation, these movements teach the rich history and concepts behind the martial art you study. Kata are the skeleton upon which we hang everything else. They are a distillation of successful combat concepts and techniques.
Too often today, the priority of martial artists is the number of Kata they can do. This superficial skimming of sequence is truly sad. Studying Kata in depth opens you to a world of exciting and inexhaustible study. The number you know is not important; understanding the depth of each is.
Also observed in martial arts today is the separation of Kata from combat. Some feel Kata is unimportant and, therefore, practice only a few fighting techniques almost exclusively, not even bothering to look at what they can learn from them. And yes, they may become good fighters, but they will only attain the skill level that coincides with their physical ability. I will still put money on the person who studies Kata in relation to combat. His progression in skill may be a little slower than the other, but when his knowledge matures, he will be a strong fighter. His ability will coincide not with just his physical skill, but with his knowledge as well. Being a Budoka is impossible without intelligence.
You can look at Kata in several ways including their history and geographical influence, as well as their symbolic, cultural, and practical meanings. Kata evolved over periods measured in centuries. People who succeeded in the realm of combat added their understanding to each generation. Martial art traditions would not have survived to the present day if there were not some important lessons to be passed on.
The Model and the Shape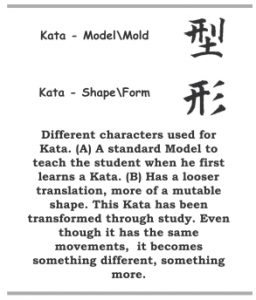 There are two ways to write the word Kata in Japanese and each one is important in its study.
The first implies a model or Mold (see figure). Part of the character uses the radical for "earth"— something that is fixed. If we consider a drinking cup, using a mold when making a cup allows us to consistently form each cup the same way, the same size, weight, shape, thickness, and contours. This Mold is given to you as a beginner. Kata are standardized movement series exposing you to its movements while teaching basic concepts of your martial art. The beginner in the Doing (Gyo) stage of training learns this standard model of movement and techniques. He copies and practices with little thought as to the reasons behind the movements, because he is striving to learn the sequence and perform them correctly.
As you mature in your understanding of Kata, they start to take on a different form. The standard mold is transformed into a flexible shape.  Like our example of the drinking cup, we can appreciate that there are many different kinds of cups. Large, small, delicate tea cups, plastic cups, ceramic cups, glass cups, wooden cups, stainless steel cups, green cups, red cups—the variety is seemingly endless, but they all have the basic principles of a cup. They all hold liquid and usually stand stable on a flat surface. The second way of writing Kata uses the water radical and emphasizes something more flexible and fluid. Cups come in all shapes and sizes, but there is something "cuppiness" about all cups. The Shape still adheres to principles of being a cup.
Graduating from the Mold concept, you now explore the Shape concept or pattern of the cup. This is the Disciplined Training (Shugyo) stage of training. You now see how movements are related, and why they are performed the way they are. Exploring the depth of the Kata, you see new insights into the stances, movements, transitions, and engagement postures (Kamae). You study the applications of techniques (Bunkai), reverse techniques (Gyaku Waza), Variation (Henka), throws (Nage), and even the hidden techniques (Kakushi Waza). You see Duality (Kyo-Jitsu) in each movement and develop  coordination of Energy (Ki) within the body (Kiai) and how to express it to the Opponent (Aiki). The Kata becomes an integral part of you. Now you are studying Kata in the sense of the second character shown.
Returning to Simple
Finally, you return to the simple movement of the original Kata as it was given to you, but now that simple movement has forever been transformed. Although it looks like a simple movement there is now depth and freedom to your Kata like a wide river. There are many kinds of rivers, some are deep, some shallow, some flow fast, some flow slow, some are cold, some warm, some straight, some meandering. They all have something in common, however: they are all rivers and yet they are all different. Kata using the second character is like this.
Both ways of looking at Kata are important. The first gives the solid foundation of transmitting information to new generations of beginners. The second adds depth to the concepts found buried with. A good teacher knows this and teaches Kata using either way based on the student's understanding and experience.
There are other concepts to be gleaned from Kata to help you become not only stronger in technique, but stronger in many aspects of our lives.
Excerpted from:  Budo Theory: Exploring Martial Arts Principles
by Richard Rowell