You study Kata diligently, for years, and just when you feel we are getting a handle on it, your Sensei shows you one little thing that gives you that slap in the forehead feeling. "Why didn't I see that?" Suddenly your understanding of the Kata expands into a whole new world of possibility. Your perspective changes as if you climbed to the top of a tower and abruptly the horizon is much further away than before. You can see new vista's that were not apparent from the bottom of the tower.
We can learn two important lessons from the horizon analogy:
1. The horizon is a point we cannot see beyond, but hints that there is something beyond its limits.
2. What limits our ability to see is that the horizon is always relative to view. If you are in a hole, your horizon is going to be close. You might want to change perspective and climb a hill.
You can sit at the bottom of the hill and listen to

someone else describe what they see, or you can walk up yourself. Nothing compares to the feeling when you discover a principle or Hidden Technique (Kakushi Waza) through your own effort—when your Sensei smiles as you both recognize that you have 'glimpsed the Ox.'
My Sensei always stressed that you had to look at Kata in more than one dimension. He showed me that there were many dimensions to Kata. So the first thing to remember about Kata is that one dimensional minds have a hard time comprehending that there may be more than one dimension.
There are many types of horizons.
Some Common Dimensions of Kata
Sequence – The obvious first dimension. When you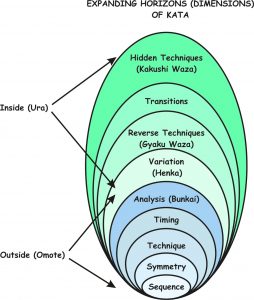 learn a Kata realize that you are receiving only a small portion of the Kata by learning its sequence—your first horizon. For the beginner, just understanding sequence is the challenge.
Bilateral Symmetry – Using both sides of the body equally. To develop bilateral ability. Many Kata only show one side or exhibit a decided "handedness." Don't fall into the trap of limiting your technique to one side, or your strong side. Expand your horizon. In the military, I learned to shoot my rifle on both my strong side and weak side, so I could adapt to circumstances and use cover effectively. Loading a magazine with your weak hand and reloading a gun with only one hand are modern expressions of Kata. What if you were injured? Kata is no different, being able to adapt to circumstance during a throw is a sign of a well-balanced budoka.
Obvious Technique – The obvious movements such as a block, punch, kick, etc. You can spend a lot of training time getting this right. Depending on your horizon, this can be the extent of your understanding. But is there something beyond your horizon that may add to these techniques?
Timing – What kind of timing can be used with each technique or group to techniques in your Kata?
Analysis (Bunkai) – This is the systematic exploration of the application of the movements in the Kata.
Variation (Henka) – This expansion in horizon is related to considering how you might vary the outcome of a technique. Some examples might be Compression (putting two techiques together, e.g. where a punch also becomes a block), Expansion (creating two techniques from one movement. e.g. I remember my Sensei showing me one movement that became three blocks instead of one. ), varying direction, severity of technique, consideration against multiple opponents. These are just a few ways that variation can be looked at.
Reverse Techniques (Gyaku Waza) – For every technique in your Kata is there a counter or several? It would be wise to understand these in case the techniques are applied to you.
Transitions – between movements can hold Throws (Nage), Finishing Techniques (Todome) and many beautiful Shifting (Sabaki) movements to avoid your opponent's strength.
These are only a few ways that you can elevate you perspective and gain new horizons with your Kata.
Tools to Gain Meaning
There are a number of tools at your disposal to expand your horizons as you research your Kata:
Interpretation – Narrow or broad. Interpreting Kata is largely based on how the Kata was transmitted from teacher to student, experience, and inference of movement and technique from other sources of information. Don't let your horizon be too narrow. "This is the way I learned it and there is no other way." We have all done this, and many can stay stuck with this limited horizon.
Inference – is a hugely important aspect of martial arts. "Ichi o Kiite, Ju o Shiru"—hear one but understand ten. Inference means to arrive at a conclusion by reasoning from evidence. There are two main methods of inference—inductive and deductive reasoning.
Inductive Reasoning – works from observation toward generalizations and theories, and is called a "bottom-up" approach. Inductive reason starts from specific observations, looks for patterns and regularities, and formulates a hypothesis that is developed into a general theory or conclusion. In other words, we observe a number of specific instances and from them infer a general principle or law. Inductive reasoning tends to be open-ended and exploratory, especially during the observation phase.
A concrete example of inductive processes could be looking at a specific Engagement Posture (Kamae) and noting certain features that could be used in other postures, or how it could be used in a different context. Another would be learning to use your hips in a punch and then using the same approach to other techniques. At the small scale of an Engagement Posture or Punch, you develop principles or theories that aggregate into more encompassing principles and these continue to aggregate. In the case of Jigoro Kano's principle of maximum efficient use of mind and body, his principle is the culmination of an inductive approach in which many technical observations led him to infer this single principle that encompassed Judo. The principle of Duality (Kyo-Jitsu) is also inferred using inductive reasoning.
Deduction – works from the more general to the more specific—sometimes called a "top-down" approach. For example, we might see and understand the basic idea of a punch from a technical point of view, but we may be able to deduce greater efficiency by testing a specific hypothesis we make, e.g. will my punch be stronger if I keep my elbow in, or if I use my hips in a slightly different manner? You can then test this hypothesis in training and determine for yourself whether it is true or not.
Independent Research – If you rely on someone else to provide the information about a movement, you will never get a complete picture. You can certainly learn from them, but you need to integrate understanding with application, and then induce your own principles that satisfy your level of experience. A single Kata may have evolved through different styles and teachers, and may appear very different from what you have been taught. Looking at the differences can lead you to new bunkai, but also give you a feeling for why movements diverged, or create new questions worth exploring.
Paradigm Evaluation – Re-evaluating your paradigms is always useful when studying Kata. As an example, when I first learned a Kata as a less experienced Budoka, I thought that offensive movements were followed sequentially with defensive movements, followed by offensive movements, etc. You blocked then you punched, or vice versa. As my experience increased, I realized offence and defence were part of a spectrum of Duality and that spectrum was one and the same thing. My understanding of offense and defense changed. A block could be used to attack and a punch could be used in defence. Suddenly my paradigm shifted from one of offence and defence to offence can be defence and defence can be offence. This led me to new discoveries in my Kata.
As a more concrete example, in one Kata I was studying there was a movement using an Upper Body Shifting (Jo Tai Sabaki). The Kata showed no outward indication of attack and I thought it was just a rotation to avoid a punch. When my Sensei showed me that the body rotation could not only evade the punch, but also break the opponent's elbow using my shoulder, I suddenly realized that all techniques had elements of both attack and defence in them at the same time. I then correctly inferred through induction that there were many other examples of these types of techniques in my Kata that I had not seen before.
Getting into a habit of re-evaluating your understanding of a Kata, or even a single movement within one, is a good habit to fall into. If you are aware that your horizon is limited, that you are fallible in your opinions, biased in your thinking and probably weigh evidence based on personal preference; that is the first step in being open to new revelations.
Frustration – This is personally my favorite. It can include technical frustration (I can't seem to get the movement right), to application (it doesn't feel right or I can't make it work against an opponent), to even understanding why a particular movement is done (that makes no sense). If you are satisfied with your first interpretation of a movement in a Kata, I would say you are missing 99 percent of what it can teach you. Frustration motivates you to dig deeper.
Outside and Inside – Omote and Ura
There are several terms used in the Japanese martial arts that describe Hidden Techniques (Kakushi Waza). Kata can be arranged by level of complexity and understanding. Some styles divide their teachings into Shoden, Chuden, and Okuden (Beginning Teaching, Middle Teaching and the Interior or Secret Teachings).
When studying Bunkai, be aware that there are the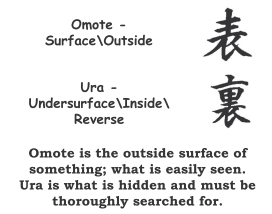 obvious applications of a technique, and others that take some searching to find. The Outside (Omote) surface of the Kata may look simple and seem not worth looking at in any more depth, but beware—you can be missing some of the most interesting and challenging aspects of the Kata.
Some of the seemingly simplest Kata are by far the deepest. The unobvious is far and away the largest aspect of Kata to study, not the obvious outer surface. As your sphere of knowledge about your martial art increases, penetrating into the Inside (Ura) can explode your understanding.
Many Kata have elements of animals and symbolic meanings. For example, one Kata may emulate a heron, bird, or a certain technique like a dragon tongue. As a biologist, watching herons gave me insight to the person who had a flash of inspiration watching these birds and developed the Kata Rohai. There are a number of famous stories of sudden insight. The crescent spear used in Hozoin Ryu was conceived in a flash of insight when its founder Hozoin Kakuzenbo In'ei is said to have seen the reflection of the crescent moon shining on a pond. He imagined a spear with a cross blade (Kama Yari) would be more effective in fighting.
Symbolic meanings can represent salutation to the four cardinal directions, flying birds, clouds, thunder, lightning and the list goes on. Sometime these are literal, but many times they are used to impart a feeling or understanding to the technique. The important thing here is to gain an understanding of the symbol and use it to understand the technique, its origin, and its application.
No matter what martial art you study, the single most important thing to explore is Kata. It has been handed down from generation to generation. Both winners and losers—the people that survived combat and those that died in it—have helped develop the ideas found in Kata. Kata is the root of all the transmission from generation to generation. It is the seed or model (See Article Kata – Looking at it two Ways) by which we can grow a great tree, apply a useful tool, or create a beautiful sculpture.
It is not important to know a great number of Kata. Learn to penetrate one or two deeply. This procedure will enable you to develop Insight (Kan) into the Kata you research. It will also give you the tools to penetrate the Inside (Ura) of others not only in your martial art, but outside it as well.
Some advocate gathering as much information about as many different martial arts as possible, by learning as many Kata as possible. I firmly believe this is a fundamentally wrong approach in the study of Budo, and results in a person with only a superficial understanding about many subjects. He is a master of nothing. By studying hard and penetrating as deeply as you can, you attain the freedom you are seeking.
Make sure you are learning real Kata and not rubbish someone has thrown together from limited horizons. Trace your Kata back to the Meijin who developed them, and understand their evolution to when it was given to you. Search for the Logic (Ronri) of the Kata. It is a tragedy wasting precious time in meaningless pursuit (Muda – See Article Without Reason, Inconsistent and a Man Without a Horse ).
Challenge your ability, understanding, and realization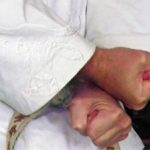 horizons by changing the way you think about Kata. Changing your perspective by looking at different dimensions of Kata will never lead to boredom. Doubling the size of your horizon, means that you have four times the area to explore.
by Rick Rowell
If you would like to read more about Budo Concepts, consider purchasing Budo Theory: Exploring Martial Arts Principles.