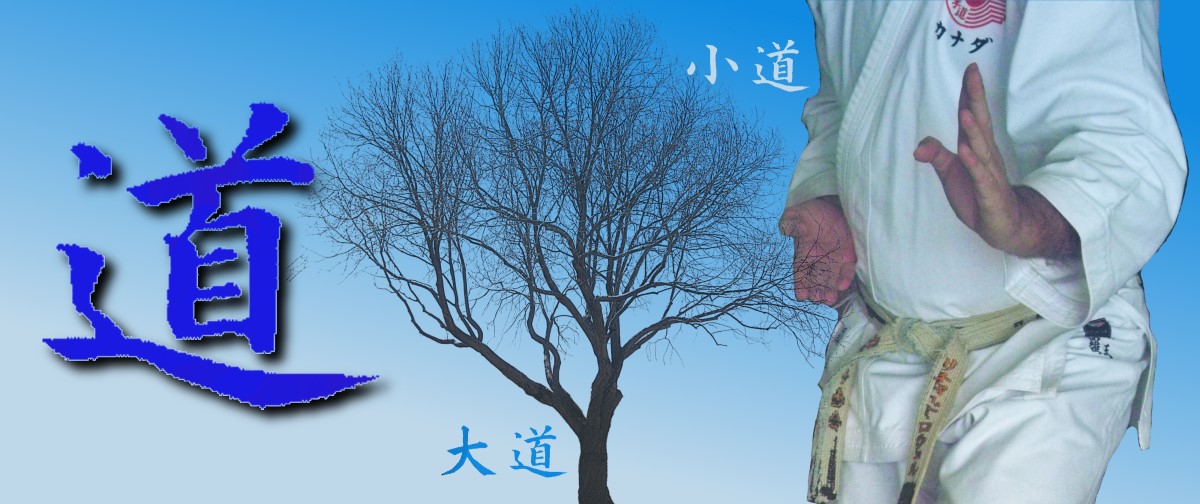 Big Things Can Come in Small Packages and Vice Versa
I reviewed some old notes scribbled down hastily after a lengthy conversation with Akutagawa Sensei, and I found a little gem to share. We were discussing the concept of Do or 'Path' as it relates to Budo. Sensei Akutagawa is no longer with us, but the echoes of his thoughts in my notes allowed me to reflect on these ideas after all these years, and he still teaches me.

Daido can mean a main street or highway, but in our Budo context, it can mean a great principle. Sensei described Daido to me as the main stem, like the trunk of a tree, the spiritual or intangible truths, the core of our being and our martial journey.
He contrasted this with the Small Way – Shodo, by comparing it to a single branch tip—to a single technique, action, or experience.
We all start our training in martial arts by learning little truths; for example, how to make a fist, or hold a sword. That little branch tip of information that your Sensei shares with you, along with others, merge into a twig that encompasses how we use our fist.

Even though I learned these small ways from my teachers, there was always something about my teachers, something deeper that made me want to learn from them. Was it their knowledge, wisdom, ability, and confidence? Yes, all that, but there was something else. There were all these intangibles that I wanted to acquire—something deeper that I could somehow feel but not experience directly. I had to train.
But I saw that deeper intangible in their Shodo—their technique, the way they helped me learn, the way they were hard with me when I needed that too. Another interesting thing that Akutagawa Sensei said to me was that Shodo is always inspired from Daido. The beauty and strength we see and appreciate in a well-executed technique is created from something deeper in the individual. We see only the downy tip of that creation, and yet, as a beginner it was technique that inspired us to want to learn more. To capture that something is what drives us to train and strive.
As I think about these ideas, I realize that Shodo gives me the pathway I can use to understand larger principles in myself from a single technique. Will the pathway be exactly the same as my Sensei's? No. It may merge with a different branch, just like all trees are different. But if I follow it back far enough, my branch will merge into a single trunk and then into the soil. That soil is the same soil my Sensei's tree grew from.
We spend a lot of our time out in the branch tips seeking new technique, action and experience. As we struggle to integrate these into larger meanings in our life, we realize that our roots are embedded in the same matrix as everyone else.
The point of this essay is that our teachers show us only the tips of their branches—their Shodo—because we can never directly experience the deeper core of their being. When our tree touches theirs, a new twig emerges in our tree. That new downy branch tip can sometimes drive our understanding straight down to the trunk like a lightning bolt, can whither, stay dormant, swirl around for years in the high branches, or reach further down to something deeper—the core of our being.
We need to experience the Small Ways (Shodo) of our teachers to seek the Great Way (Daido) underneath, and we need the Great Way in us to inspire us to search for the techniques, actions, and experiences that shape who we are. When Shodo becomes Daido is something hard to figure out. One can't exist without the other.
Our techniques, actions, and experiences (Shodo) are created from something deeper in us (Daido). At the same time the Great Way in us is inspired by the Small Ways of our teachers. And that is what we call the Way.
Budo Theory: Exploring Martial Arts Principles
by Rick Rowell